How to build a digital transformation roadmap in 4 easy steps
So let's cut to the chase here's what you will learn from this article:
(All the above will be linked to each part for quick navigation)
What is Digital Transformation?
The pace of technological innovation is increasing at an exponential rate. Although it can be difficult to stay ahead of the curve, it's important to do what you can to keep up with the latest changes. By staying informed and keeping an open mind, you'll be able to stay a step ahead of the competition. Global spending on digital transformation rapidly increased in the wake of the covid-19 pandemic. However, even with this mass investment, much of it will be wasted as the efforts are led by people who don't know what they're doing. Why? Because they don't have a digital transformation roadmap.
So hang on a second what is digital transformation?
Digital transformation is an amazing opportunity for businesses to integrate digital technology and fundamentally change the way they operate. It's a chance to really challenge the status quo and experiment. At LBSPartners we are really optimistic about the potential for digital transformation to truly transform businesses and the world. Although it may seem like you have to start from scratch, you can actually evolve your current business to get more value from your resources. This process is all about re-orienting your strategy so that you can be more successful.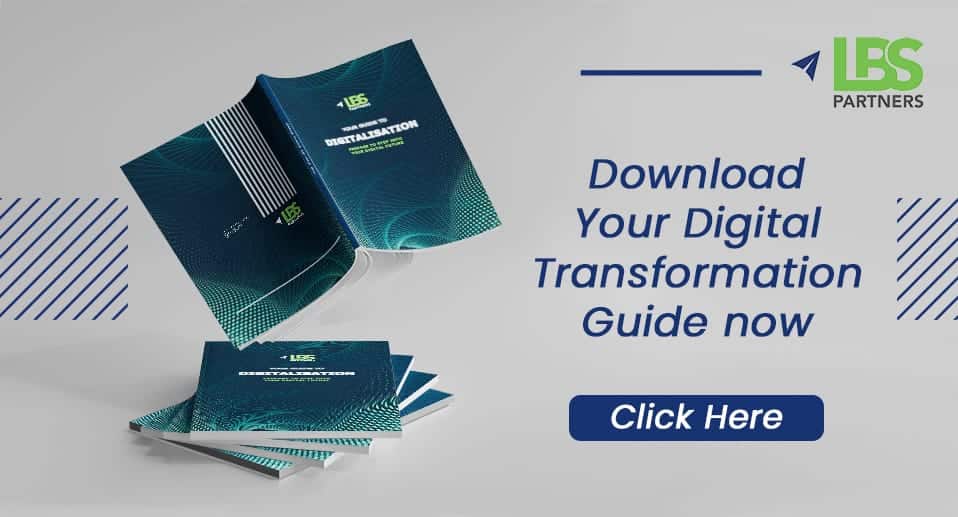 Why do you need a digital transformation roadmap?
Nearly every single company has a strategy, right? Sure, it may be somewhere deep in an old google drive folder or on the laptop of the CEO but it's there right?
In reality, it's the roadmap that really makes the difference. With a roadmap, you can take your ideas and turn them into reality. That's what really makes the difference. Without a roadmap, your goals and objectives are just hoping for the best. And that's never a good place to be in business!
So what are the top 3 benefits of a digital transformation roadmap?
Clarity: If you have an idea, it's important to know how to implement it. A roadmap provides a clear plan for your business, so they know what to do when to do it, and how to do it. This way, you can achieve your organisational goals.
Inclusivity: When you have a team that's all on the same page, it can make a big difference. Having a diverse group of decision-makers helps to bring different perspectives to the table and ensures that everyone feels heard. This level of communication and collaboration can help to improve morale and performance overall.
Effectiveness: Creating and following a roadmap is the best way to ensure that you and your team are always moving forward toward your goals. Having a plan helps everyone stay focused and on track so that you can reach your destination as quickly and smoothly as possible.
How to build a digital transformation roadmap?
Great now we know what this is let's make it happen! It's time to create your very own digital transformation roadmap. From here we will help guide you through the process.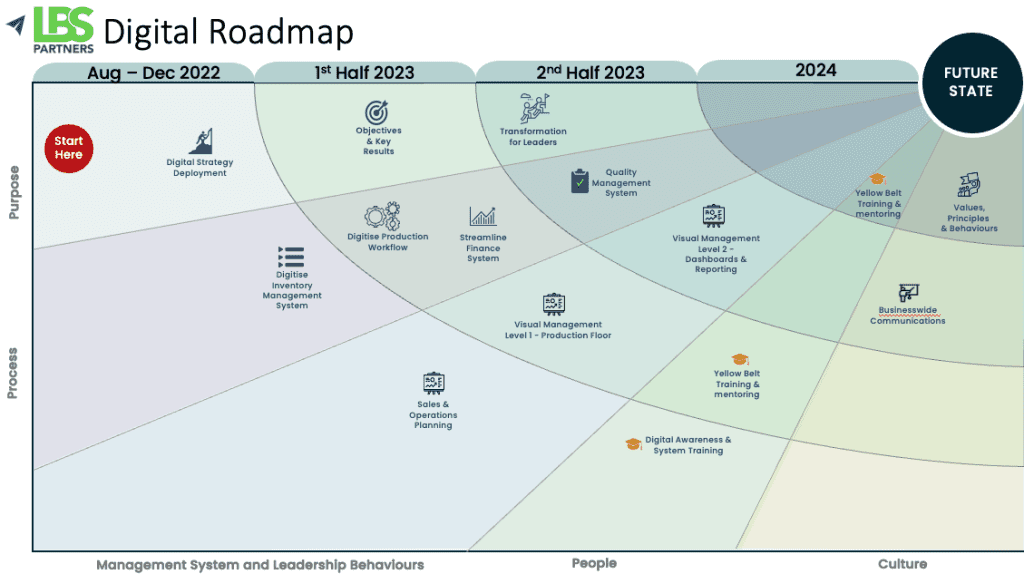 1. Bring your people together with your plan.
Although it may not seem like it, digital transformation requires more than just a change in technology or process. To be successful, there also needs to be a cultural change. This can be difficult to achieve because it asks people to change the way they work. A new system comes with training and a learning curve that can sometimes be complicated. The entire team needs to be willing to learn and use the new system for it to run smoothly.
You can create a strong, cohesive culture in your workplace by maintaining open communication with all employees. Make sure to share relevant information with everyone, listen to concerns and questions, and take note of employee feedback. By doing this, you'll create a closer-knit culture that leads to happier employees and more productive action.
2. Gather and analyse your data
Although digital transformation can be a daunting undertaking, it's important to assess your starting point before making any changes. What processes or systems are already in place? How can they be improved? By gathering and analysing data, you can establish a baseline to measure the effectiveness of your initiative.
For example, if you hope that digital transformation will increase your team's productivity, you need to know how much time they're spending on a particular task before implementing new tools or processes. After the transformation is complete, you can measure and compare outputs to assess if your initiative was successful.
3. Set Key Performance Indicators (KPIs)
Think about what you want to achieve, and set realistic and measurable goals to help you get there. Having goals in mind can help guide your transformation process and ensure that you realise ROI faster.
Breaking your roadmap into smaller phases can make the transformation more manageable for your team. Each phase gives you a smaller goal to tackle and provides a clear opportunity to regroup and reassess your plan. You can double-check that you're still on track and make adjustments if necessary. This approach is like stopping at rest stops during your road trip. It allows you to take a break, stretch your legs, and see if you're still on the right path.
The best way to set KPIs is to use the SMART criteria framework:
Specific: What do you want to achieve?
Measurable: What metrics will indicate you've achieved it?
Achievable: Are you capable of achieving it?
Relevant: Does this goal align with your business plan?
Timely: When should the goal be achieved by?
4.     Establish Accountability
Digital transformation will be successful if key stakeholders are motivated and invested in your vision. You can create these champions in your organization by giving employees ownership of specific missions or digital transformation initiatives.
Engaged employees understand how their work impacts the bigger picture and connects to the company's vision. And there is no better way to keep people engaged and improve work performance than to empower them with responsibility.
Don't think of digital transformation as a race to the finish line. It's more like an ongoing journey with lots of twists and turns. If you want to be successful, you need a well-thought-out roadmap that covers all the basics such as what you want to achieve, how you're going to do it, and who's responsible for what.
Clarity, context, and step-by-step directions are essential. And don't forget to keep an eye on your KPIs, analyse feedback, and iterate regularly. With a digital transformation roadmap, you can map out your entire strategy in a way that everyone in your business can understand and follow.